Your Trusted HVAC Duct Cleaning & Dryer Vent Cleaning Company in Franklin Park, NJ
Your Trusted Source for Comprehensive Air Duct Cleaning Services in and Around Franklin Park, NJ
At Air Duct Solution, we take pride in enhancing indoor air quality and ensuring the safety of homes and businesses in Franklin Park, NJ, and its surrounding areas. As a dedicated air duct cleaning company, we offer a range of services designed to create healthier and safer living and working environments.
Our Services in Franklin Park, NJ
Air Duct Cleaning: Our thorough air duct cleaning service eliminates dust, allergens, and contaminants from your HVAC system. By removing these particles, we not only improve indoor air quality but also enhance the overall efficiency of your heating and cooling system. Breathe easier with our expert air duct cleaning.
Dryer Vent Cleaning: Protect your home from potential fire hazards by keeping your dryer vents clean. Our professional dryer vent cleaning service removes lint and debris, reducing the risk of dryer-related fires. Experience quicker drying times and improved dryer performance with our specialized cleaning approach.
Chimney Cleaning: Ensure the safety of your home and family with our chimney cleaning service. Soot, creosote, and debris can accumulate in chimneys, posing fire hazards. Our skilled technicians perform thorough chimney cleaning, minimizing risks and allowing your fireplace or heating appliance to function efficiently.
Commercial Air Duct Cleaning: Businesses in Franklin Park can also benefit from our expertise. Our commercial air duct cleaning service enhances indoor air quality, creating a healthier environment for employees and customers alike. Improve HVAC system efficiency and maintain a professional atmosphere with our tailored solutions.
Why Choose Air Duct Solution
Experienced Professionals: Our team of experienced technicians has the knowledge and expertise to handle your dryer vent cleaning needs efficiently and effectively. We have been cleaning dryer vents for over 10 years and have a proven track record of success.
Advanced Techniques: We use state-of-the-art equipment and industry-leading techniques to clean your dryer vents thoroughly and effectively. Our technicians are trained to use these techniques safely and efficiently, leaving your dryer vents clean and free of blockages.
Safety First: Your safety is our top priority. We are committed to eliminating potential fire hazards and improving indoor air quality in your home. We use safe and effective cleaning techniques that will not damage your dryer or your home.
Customized Solutions: We understand that every property is unique. We will work with you to develop a customized dryer vent cleaning solution that meets your specific needs and budget. We will never try to upsell you on services that you don't need.
Transparency: We are committed to providing transparent pricing and communication. We will never use hidden fees or surprise charges. We will provide you with a detailed explanation of the services you will receive before we start work.
Customer Satisfaction: We are dedicated to providing exceptional customer service. Our friendly and knowledgeable technicians will go the extra mile to make sure you are satisfied with our services. We offer a satisfaction guarantee on all of our dryer vent cleaning services.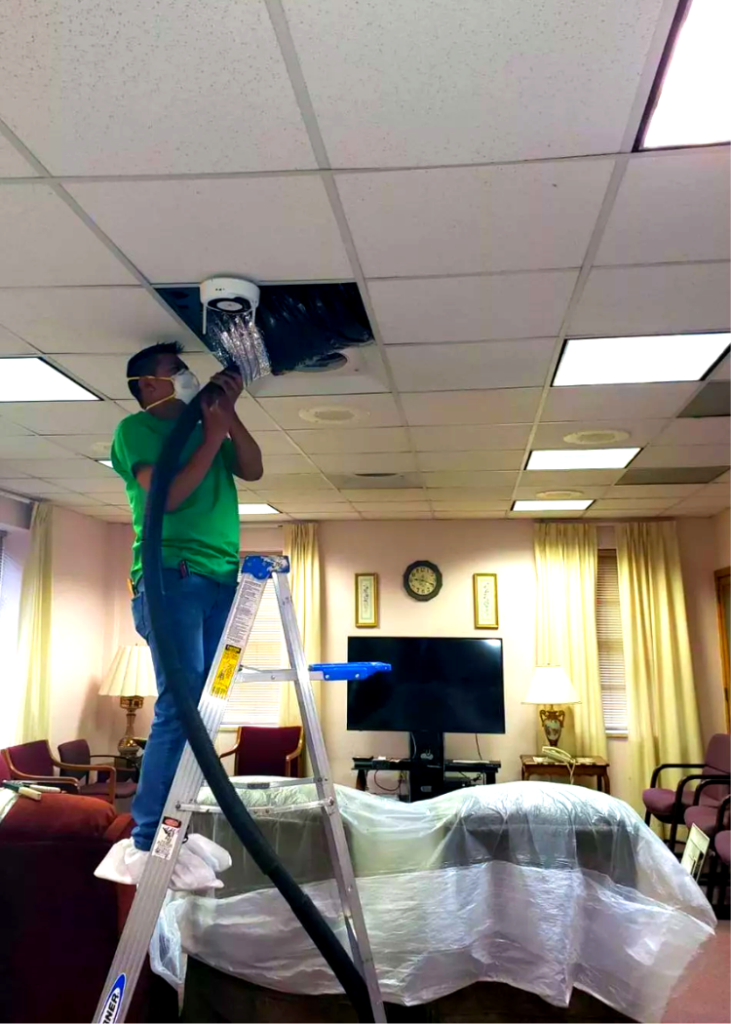 Improved Indoor Air Quality: Clean ducts remove dust, allergens, and contaminants from your home's air, creating a healthier environment to breathe in. This can help to reduce allergy and asthma symptoms, improve respiratory health, and boost overall well-being.
Efficient Energy Use: Clean ducts allow your HVAC system to operate more efficiently, which can lead to energy savings of up to 15%. This can save you money on your energy bills and reduce your carbon footprint.
Extended System Longevity: Less strain on your HVAC equipment due to reduced debris can extend the lifespan of your system by up to 5 years. This can save you money on replacements and repairs.
Allergen-Free Living Space: Removing pet dander, pollen, and other allergens can create a more comfortable, allergen-free living environment for you and your family. This can help to reduce allergy and asthma symptoms and improve overall quality of life.
Aromatic Atmosphere: Musty odors are banished, leaving behind a fresh, clean scent that enhances your home's ambiance. This can make your home more inviting and comfortable for you and your guests.
Peace of Mind: Clean ducts not only provide tangible benefits, but they also offer peace of mind knowing that your indoor space is healthier and safer for your loved ones. This can help you to relax and enjoy your home more.
I was hesitant to have my air ducts cleaned, but I'm so glad I did! The team at Air Duct Solution was fantastic. They arrived on time, were very professional, and did an excellent job cleaning and sanitizing my air ducts.
I have used Air Duct Solution for air duct cleaning in the past and have always been very satisfied with the results. Their technicians are knowledgeable, friendly, and do a thorough job cleaning and sanitizing the air ducts in my home
I recently had Air Duct Solution clean the air ducts in my business and was extremely impressed with the service I received. The technician was on time, professional, and did a fantastic job cleaning and sanitizing the air duct


Trusted Franklin Park, NJ Air Duct Cleaning company
Air Duct Solution is a 5-star duct cleaning company inFranklin Park, NJ.
We are dedicated to providing excellent service to our customers, with transparent pricing and a delightful and effortless experience. We will work with you to schedule a time that is convenient for you and we will clean your ducts quickly and efficiently.
Ready to Breathe Easier? Contact Us Today!
Elevate your indoor air quality with Air Duct Solution. Call (888) 823-5688 or fill out the form today to schedule your cleaning services in Franklin Park, NJ.