Your Trusted Chandler, AZ Air Duct Cleaning & Dryer Vent Cleaning Experts
Your Trusted Source for Comprehensive Air Duct Cleaning Services in and Around Chandler, AZ
Searching for professional air duct cleaning services in Chandler, AZ? Look no further than Air Duct Solution! With a focus on excellence, we provide a range of services to enhance indoor air quality and ensure your comfort.
Our Services in Chandler, AZ
Air Duct Cleaning in Chandler, AZ
Experience cleaner, healthier indoor air with our specialized air duct cleaning services. Our team employs advanced techniques and state-of-the-art equipment to remove dust, allergens, and pollutants from your air ducts, promoting optimal air quality.
Dryer Vent Cleaning: Safeguard Your Home
Protect your home and loved ones by keeping your dryer vents clean. Our dryer vent cleaning service in Chandler, AZ, prevents fire hazards and improves dryer efficiency by removing lint and debris, allowing air to flow freely.
Chimney Cleaning for Safety and Comfort
Enjoy the warmth of your fireplace safely with our chimney cleaning service. We remove soot, creosote, and blockages, ensuring efficient ventilation and reducing the risk of fire hazards in your Chandler, AZ, home.

Commercial Air Duct Cleaning: Enhance Your Business Environment
Create a healthier work environment with our commercial air duct cleaning service. We understand the unique needs of businesses in Chandler, AZ, and provide comprehensive cleaning to maintain optimal indoor air quality.
Why Choose Air Duct Solution in Chandler, AZ?
Experienced Professionals: Our skilled technicians have years of experience in air duct cleaning, dryer vent cleaning, and chimney cleaning.
Cutting-Edge Equipment: We utilize advanced equipment to ensure thorough and efficient cleaning for the best results.
Health and Safety: Our services enhance indoor air quality, promoting a healthier living and working environment in Chandler, AZ.
Transparent Pricing: We offer honest and competitive pricing for all our services, ensuring you receive exceptional value.
Customer Satisfaction: Our commitment to your satisfaction is evident in our 5-star reviews and dedication to exceeding expectations.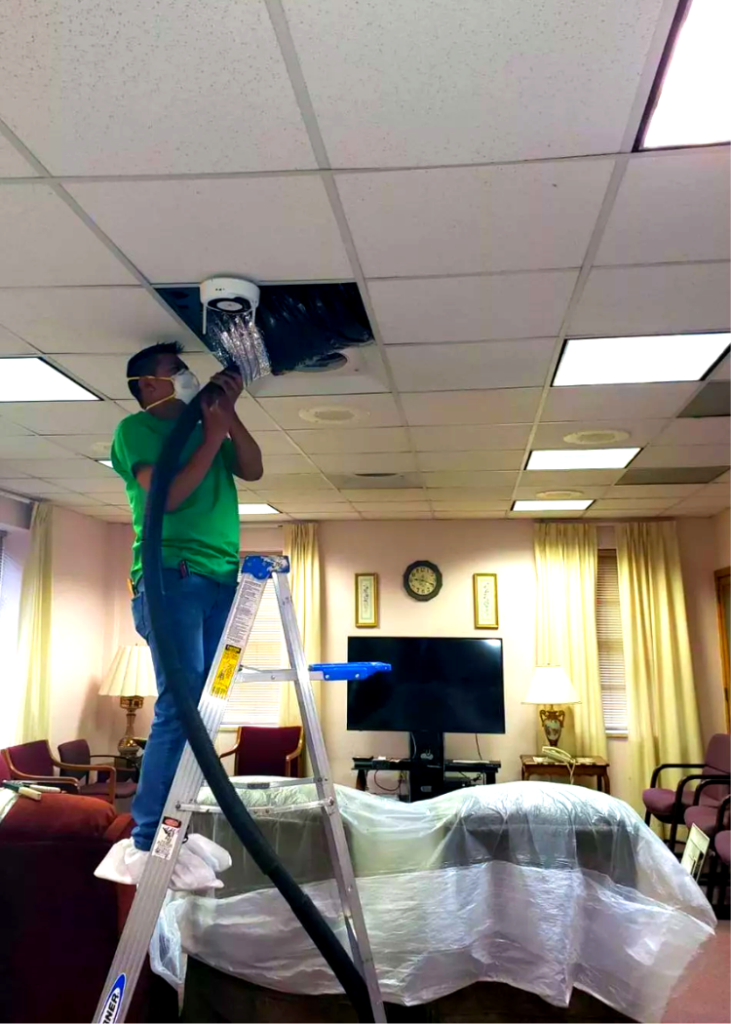 Breathe Easy with Clean Ducts: Unlocking Healthier Living in Chandler, AZ
Clean air ducts offer more than just better airflow. At Air Duct Solution in Chandler, AZ, we highlight the benefits of clean ducts that encompass enhanced indoor air quality, increased energy efficiency, and overall well-being.
1. Improved Indoor Air Quality (IAQ): Experience fresher, allergen-free air. Our air duct cleaning service in Chandler, AZ, eliminates dust, pollen, and contaminants, promoting a healthier home environment.
2. Energy Efficiency and Savings: Clean ducts allow your HVAC system to operate efficiently, lowering energy consumption. Our service contributes to reduced utility bills and a greener lifestyle.
3. Allergen Control: Combat allergies effectively. Air duct cleaning minimizes allergen buildup, easing symptoms and providing relief to families.
4. Extending HVAC System Life: Maximize the longevity of your HVAC system. Our service prevents strain on components, reducing the risk of premature breakdowns.
5. Odor Removal: Eliminate stale or musty odors. Our cleaning service in Chandler, AZ, ensures your indoor spaces smell fresh and inviting.
6. Healthier Living Spaces: Clean ducts mean a healthier home. Our service helps safeguard against respiratory issues and maintains a comfortable living environment.
7. Fire Safety (Dryer Vents): Chandler, AZ, residents can trust us for safer homes. Our dryer vent cleaning reduces fire hazards by eliminating lint buildup.
8. Peace of Mind: Rest easy with cleaner ducts. In Chandler, AZ, our service offers a sense of security, knowing your air quality is optimized for better living.
At Air Duct Solution, we prioritize your well-being. Our air duct cleaning service in Chandler, AZ, combines these benefits to ensure you breathe easy and live better. Contact us to embrace cleaner, healthier living today.
I was hesitant to have my air ducts cleaned, but I'm so glad I did! The team at Air Duct Solution was fantastic. They arrived on time, were very professional, and did an excellent job cleaning and sanitizing my air ducts.
I have used Air Duct Solution for air duct cleaning in the past and have always been very satisfied with the results. Their technicians are knowledgeable, friendly, and do a thorough job cleaning and sanitizing the air ducts in my home
I recently had Air Duct Solution clean the air ducts in my business and was extremely impressed with the service I received. The technician was on time, professional, and did a fantastic job cleaning and sanitizing the air duct


Trusted Chandler, AZ Air Duct Cleaning, Dryer Vent, and Chimney Cleaning Experts
Elevating Excellence: Introducing Air Duct Solution's 5-Star Service in Chandler, AZ
Dedicated to your satisfaction, we uphold transparency, honesty, and equitable pricing.
In Chandler, AZ, we redefine cleaning as a hassle-free, enjoyable experience. Opt for Air Duct Solution to embark on a seamless journey that consistently exceeds expectations, ensuring your happiness from beginning to end.
Enhance Your Indoor Air Quality with Air Duct Solution - Your Chandler, AZ Choice
At Air Duct Solution, we're committed to improving the air you breathe. Call us at (888) 823-5688 or conveniently fill out the form to schedule your cleaning services in Chandler, AZ. Breathe fresher air today!