HVAC Duct Cleaning & Dryer Vent Cleaning in Scottsdale, AZ
Your Trusted Source for Comprehensive Air Duct Cleaning Services in and Around Scottsdale, AZ
Discover the ultimate cleaning services in Scottsdale, Arizona, with Air Duct Solution. Our commitment to enhancing indoor air quality and ensuring safety in residential and commercial spaces sets us apart. Our comprehensive services include expert air duct cleaning, chimney cleaning, dryer vent cleaning, and customized commercial air duct cleaning.
Our Services in Scottsdale, AZ
Air Duct Cleaning: Freshen Your Indoor Air
Experience the pleasure of breathing in fresh, clean air with our specialized air duct cleaning services. Over time, air ducts collect dust, allergens, and debris, compromising the quality of the air you breathe. Our expert technicians use cutting-edge equipment to thoroughly cleanse your air ducts, contributing to healthier living and working environments.
Dryer Vent Cleaning: Enhance Safety and Efficiency
Neglecting dryer vent cleaning can lead to reduced efficiency, prolonged drying times, and even fire hazards. Our team ensures that lint and debris are effectively removed, allowing your dryer to operate safely and efficiently, while reducing the risk of potential fire incidents.
Chimney Cleaning: Enjoy Cozy Evenings Safely
Maintain the efficiency and safety of your fireplace with our professional chimney cleaning services. Accumulated soot and creosote can hinder proper draft, result in unpleasant odors, and pose fire risks. Let us help you preserve a clean and secure chimney, providing warmth and ambiance to your home.
Commercial Air Duct Cleaning: Optimize Workplace Air Quality
For businesses in Scottsdale, we offer specialized commercial air duct cleaning services. A clean and well-maintained air system contributes to a productive and healthier work environment. Our team is equipped to handle diverse commercial systems, ensuring your workplace air quality remains at its best.
Why Choose Air Duct Solution
Comprehensive Expertise: Our team boasts in-depth knowledge and skill in air duct, chimney, and dryer vent cleaning.
Experienced Professionals: Trust our seasoned technicians who deliver efficient and effective cleaning results.
Cutting-Edge Equipment: We employ advanced tools for thorough and reliable cleaning, ensuring exceptional outcomes.
Dedication to Quality: Our unwavering commitment guarantees your satisfaction with every service we provide.
Healthier Indoor Environment: Experience the benefits of improved indoor air quality and a safer living or working space.
Tailored Solutions: We address unique cleaning needs, offering versatile services that cater to diverse requirements.
Enhanced Safety: Our services reduce fire risks by eliminating debris buildup in chimneys and dryer vents.
Energy Efficiency: Cleaner air ducts contribute to an efficient HVAC system, potentially lowering energy consumption.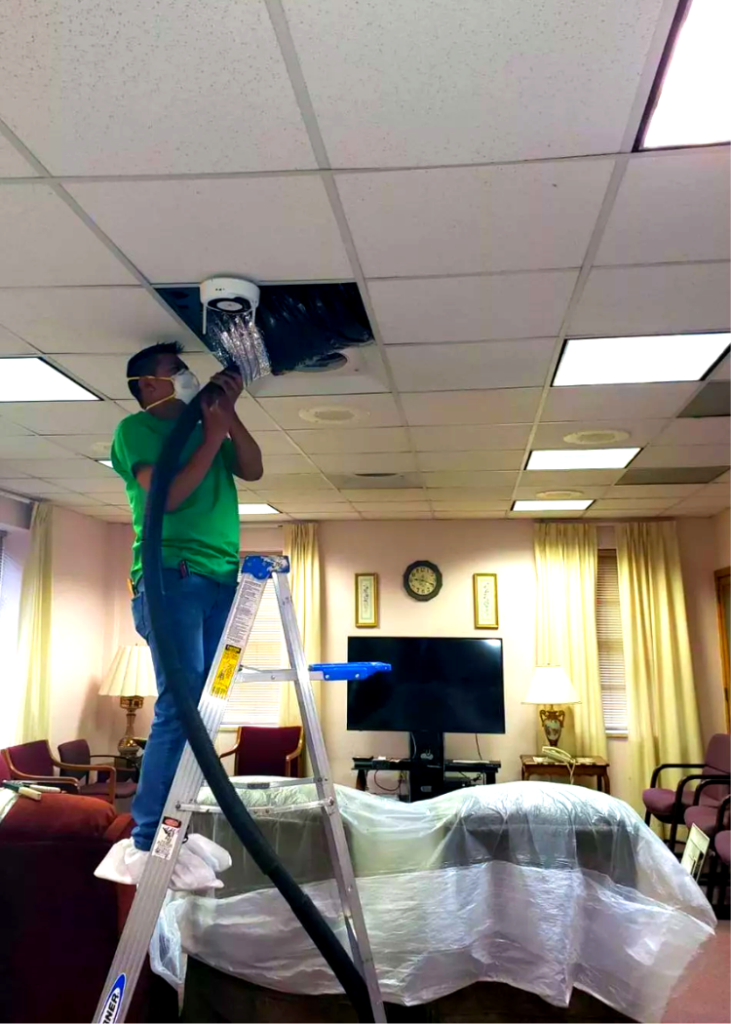 Elevated Indoor Air Quality: By removing dust, allergens, and contaminants, clean ducts create an environment where you can breathe easier and healthier.
Optimized Respiratory Well-being: Minimized airborne irritants lead to reduced allergy and asthma symptoms, supporting better respiratory health for you and your family.
Efficient Energy Utilization: Clean ducts facilitate proper airflow, allowing your HVAC system to operate more efficiently, potentially leading to energy savings.
Extended System Longevity: Less strain on your HVAC equipment due to reduced debris means a longer lifespan for your system, saving you money on replacements.
Allergen-Free Living Space: The removal of pet dander, pollen, and other allergens translates to a more comfortable, allergen-free living environment.
Aromatic Atmosphere: Musty odors vanish, replaced by a fresh, clean scent that enhances the overall ambiance of your home.
Assured Serenity: Clean ducts not only provide tangible benefits but also offer peace of mind, knowing that your indoor space is healthier and safer for your loved ones.
I was hesitant to have my air ducts cleaned, but I'm so glad I did! The team at Air Duct Solution was fantastic. They arrived on time, were very professional, and did an excellent job cleaning and sanitizing my air ducts.
I have used Air Duct Solution for air duct cleaning in the past and have always been very satisfied with the results. Their technicians are knowledgeable, friendly, and do a thorough job cleaning and sanitizing the air ducts in my home
I recently had Air Duct Solution clean the air ducts in my business and was extremely impressed with the service I received. The technician was on time, professional, and did a fantastic job cleaning and sanitizing the air duct


Trusted Scottsdale, AZ Air Duct Cleaning company
At Air Duct Solution, Our Dedication to Excellence Shines Through 5-Star Reviews.
We hold your satisfaction as our top priority, underscored by our transparent, honest, and equitable pricing.
In Scottsdale, AZ, we redefine the cleaning process into a delightful and effortless experience. Opt for Air Duct Solution to embark on a seamless journey that consistently exceeds expectations, ensuring your happiness throughout the entire process.
Ready to Breathe Easier? Contact Us Today!
Elevate your indoor air quality with Air Duct Solution. Call (888) 823-5688 or fill out the form today to schedule your cleaning services in Scottsdale, AZ