HVAC Duct Cleaning & Dryer Vent Cleaning in Fort Worth, TX
Your Trusted Source for Comprehensive Air Duct Cleaning Services in and Around Fort Worth, TX
At Air Duct Solution, we take pride in offering comprehensive air system care services to the vibrant community of Fort Worth, TX. Our commitment to clean and healthy indoor air spans across residential and commercial properties alike. With years of experience and a team of skilled professionals, we are dedicated to ensuring that your air ducts, dryer vents, chimneys, and commercial air systems are in their best condition, promoting optimal performance and indoor air quality.
Our Services in Fort Worth, TX
Air Duct Cleaning: Breathe Fresh Air Again
Experience the joy of breathing clean and fresh air with our specialized air duct cleaning services. Over time, air ducts accumulate dust, debris, and allergens that can affect the air quality in your home or workplace. Our trained technicians use advanced equipment to thoroughly clean your air ducts, promoting healthier living and working environments.
Dryer Vent Cleaning: Prevent Fire Hazards
 Don't underestimate the importance of clean dryer vents. Lint buildup in dryer vents can lead to reduced efficiency, longer drying times, and even fire hazards. Our team will efficiently remove lint and debris, ensuring your dryer operates safely and effectively.
Chimney Cleaning: Enjoy Warmth Safely
Keep your fireplace functioning efficiently and safely with our professional chimney cleaning services. Soot and creosote can accumulate in chimneys, leading to reduced draft, unpleasant odors, and even potential fire risks. Let us help you maintain a clean and safe chimney for cozy evenings by the fire.
Commercial Air Duct Cleaning: Healthy Work Environments
For businesses in Fort Worth, we offer specialized commercial air duct cleaning services. Clean and well-maintained air systems contribute to a more productive and healthier workplace. Our team understands the unique needs of commercial spaces and is equipped to handle even the most complex systems.
Why Choose Air Duct Solution
Experience: With years of industry experience, we have perfected our techniques and are well-versed in the unique challenges that Fort Worth's climate can pose to air systems.
Trained Professionals: Our technicians are trained, certified, and knowledgeable in the latest air system care practices and equipment.
Advanced Equipment: We utilize state-of-the-art equipment to ensure thorough cleaning and optimal results for all our services.
Customer Satisfaction: Your satisfaction is our top priority. We strive to exceed your expectations with every service we provide.
Health and Safety: We are committed to creating healthier indoor environments by removing allergens, dust, and debris from your air systems.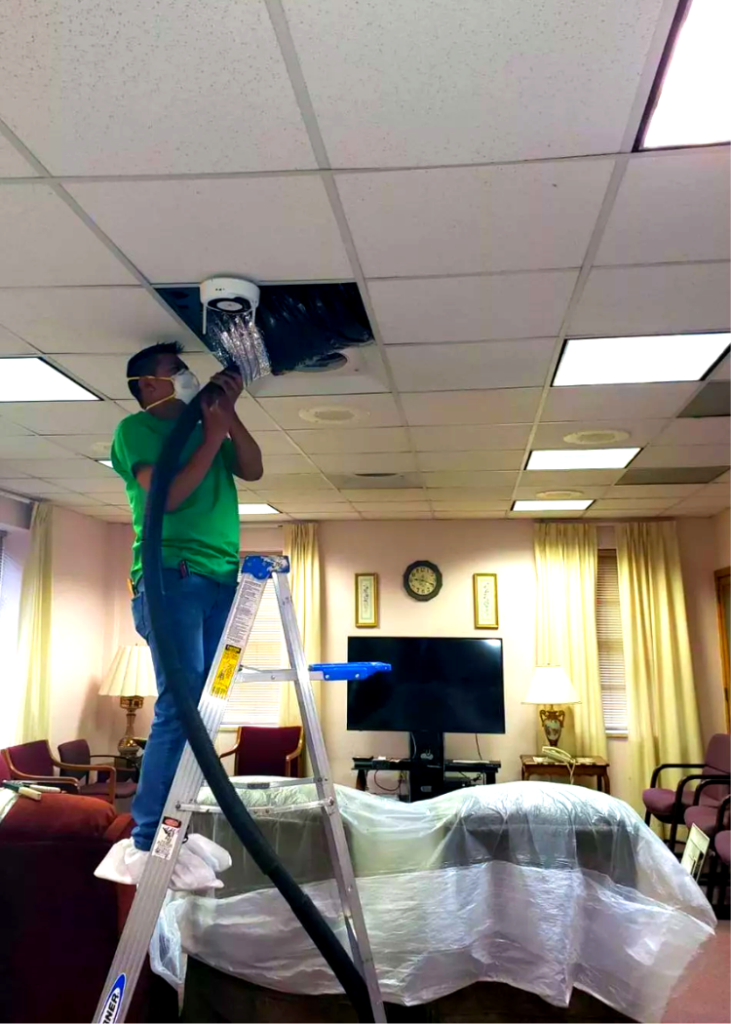 Benefits of Clean Ducts: Breathe Easy and Live Better
Clean air ducts play a crucial role in maintaining a healthy and comfortable indoor environment. At Air Duct Solution, we understand the importance of clean air and the numerous benefits it brings to your home or workplace in Fort Worth, TX.
1. Improved Indoor Air Quality: Clean air ducts ensure that the air circulating throughout your space is free from dust, allergens, and pollutants. This is especially important for individuals with respiratory issues or allergies, as well as for creating a fresh and pleasant environment for everyone.
2. Energy Efficiency: When your air ducts are clogged with debris, your HVAC system has to work harder to maintain the desired temperature. Clean air ducts allow for efficient airflow, reducing strain on your system and potentially lowering energy consumption and utility bills.
3. Enhanced HVAC System Lifespan: Regular air duct cleaning prevents the accumulation of dirt and debris that can lead to wear and tear on your HVAC system. By maintaining clean air ducts, you can extend the lifespan of your system and avoid costly repairs or replacements.
4. Odor Reduction: Musty or unpleasant odors in your indoor spaces can often be attributed to contaminants trapped within your air ducts. Cleaning these ducts removes these odors at the source, leaving your home or business smelling fresher.
5. Allergen and Mold Control: Dust and moisture in air ducts can create an ideal environment for mold growth and allergen accumulation. Regular cleaning helps to prevent these issues, promoting a healthier living and working environment for you and your family or employees.
6. Improved Airflow: Clean air ducts facilitate better airflow, ensuring consistent temperature distribution and balanced comfort throughout your space. This also reduces the likelihood of hot or cold spots in different areas.
7. Fire Safety (Dryer Vents): For dryer vent cleaning, a significant benefit is the reduction of fire hazards. Lint buildup in dryer vents can lead to overheating and potentially ignite a fire. Regular cleaning mitigates this risk, promoting a safer home environment.
8. Peace of Mind: Knowing that your air ducts are clean and your indoor air quality is optimized brings peace of mind. You can enjoy a healthier, more comfortable living or working space, free from the worries of airborne contaminants.
At Air Duct Solution, we are dedicated to providing you with these benefits and more. Our professional air duct cleaning services in Fort Worth, TX, are designed to help you create a cleaner, safer, and more comfortable indoor environment. Contact us today to schedule your air duct cleaning and experience the positive impact on your well-being. Breathe easy with Air Duct Solution!
I was hesitant to have my air ducts cleaned, but I'm so glad I did! The team at Air Duct Solution was fantastic. They arrived on time, were very professional, and did an excellent job cleaning and sanitizing my air ducts.
I have used Air Duct Solution for air duct cleaning in the past and have always been very satisfied with the results. Their technicians are knowledgeable, friendly, and do a thorough job cleaning and sanitizing the air ducts in my home
I recently had Air Duct Solution clean the air ducts in my business and was extremely impressed with the service I received. The technician was on time, professional, and did a fantastic job cleaning and sanitizing the air duct


Trusted Fort Worth, TX Air Duct Cleaning , Dryer Vent and Chimney Cleaning company
Elevating Excellence: Unveiling Air Duct Solution's 5-Star Experience in Fort Worth, TX

Elevating your satisfaction is our unwavering focus, reflected in our clear, trustworthy, and fair pricing structure.
In Fort Worth, TX, we transform cleaning into an effortless, enjoyable journey. Choose Air Duct Solution for a seamless experience that consistently surpasses expectations, ensuring your contentment from start to finish.
Ready to Breathe Easier? Contact Us Today!
Elevate your indoor air quality with Air Duct Solution. Call (888) 823-5688 or fill out the form today to schedule your cleaning services in Fort Worth, TX.