Air Duct Cleaning Services in Philadelphia, PA
Your Trusted Partner for Comprehensive Air Duct Cleaning Services in philadelphia, PA!
Your trusted partner for comprehensive cleaning services in Philadelphia, Pennsylvania. With our commitment to enhancing indoor air quality and ensuring the safety and comfort of your residential or commercial space, we are your premier choice for air duct cleaning, chimney cleaning, dryer vent cleaning, and commercial air duct cleaning services in the area.
Our Services in Philadelphia, PA
Air Duct Cleaning: Breathe cleaner and healthier air with our expert air duct cleaning services. Our skilled technicians use advanced techniques to remove dust, allergens, and contaminants, promoting a fresher indoor environment for your home or business.
Chimney Cleaning: Ensure the safety of your property by maintaining a clean and clear chimney. Our chimney cleaning experts will remove built-up creosote, soot, and debris, reducing the risk of chimney fires and ensuring optimal chimney performance.
Dryer Vent Cleaning: Improve your dryer's efficiency and safety with our specialized dryer vent cleaning services. Our thorough cleaning process eliminates lint buildup, reducing the risk of dryer fires and ensuring proper dryer operation.
Commercial Air Duct Cleaning: Create a healthier and more productive commercial environment for your employees and customers. Our tailored commercial air duct cleaning services address the unique needs of businesses in Philadelphia, promoting enhanced indoor air quality and a comfortable atmosphere.
Why Choose Air Duct Solution
Comprehensive Services: We offer a wide range of cleaning services to address all your needs.
Experienced Professionals: Our skilled technicians deliver efficient and effective cleaning solutions.
Advanced Equipment: We use state-of-the-art equipment for thorough and reliable cleaning results.
Commitment to Quality: Our dedication to excellence ensures your satisfaction with every service.
Healthier Indoor Environment: Our services contribute to improved indoor air quality and safety.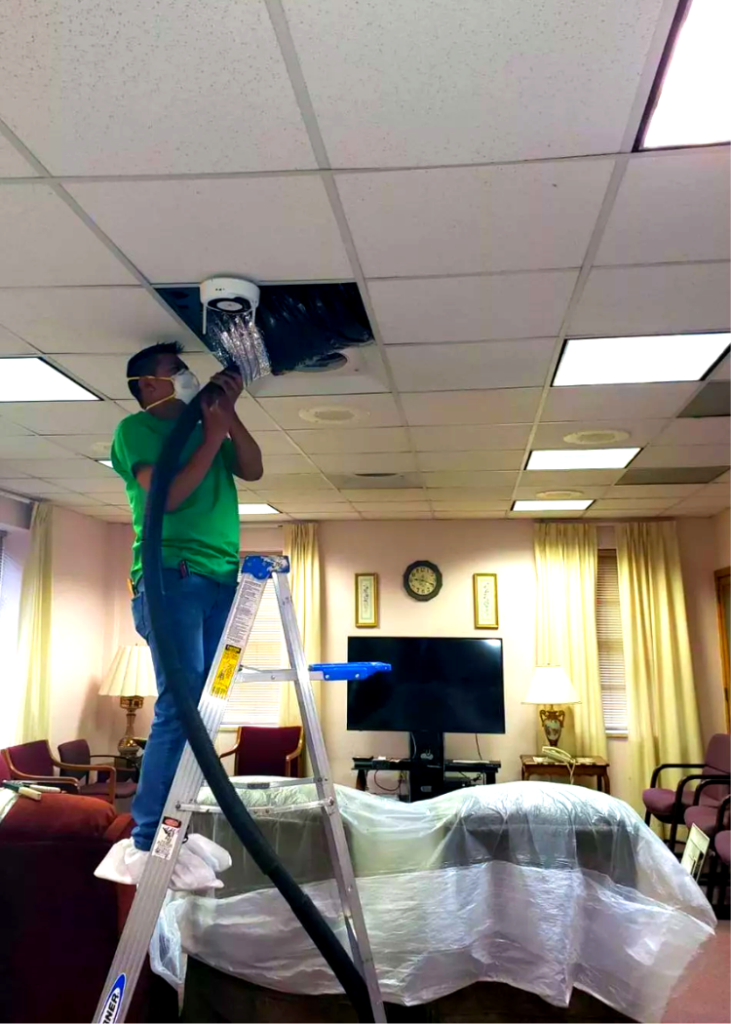 Clean air ducts improve indoor air quality by removing allergens and pollutants.
Regular air duct cleaning enhances respiratory health, reducing symptoms like sneezing and congestion.
Clean air ducts contribute to energy efficiency, leading to lower energy bills and a longer HVAC system lifespan.
Air duct cleaning reduces allergens and irritants, including pet dander and dust, for a healthier living environment.
Clean air ducts help eliminate unpleasant odors circulating through your home.
Regular cleaning extends the lifespan of your HVAC system, minimizing the need for repairs or replacements.
Clean air ducts ensure consistent airflow and even temperatures throughout your home.
Knowing your air ducts are clean provides peace of mind that the air you breathe is healthier and free from contaminants.
I was hesitant to have my air ducts cleaned, but I'm so glad I did! The team at Air Duct Solution was fantastic. They arrived on time, were very professional, and did an excellent job cleaning and sanitizing my air ducts.
I have used Air Duct Solution for air duct cleaning in the past and have always been very satisfied with the results. Their technicians are knowledgeable, friendly, and do a thorough job cleaning and sanitizing the air ducts in my home
I recently had Air Duct Solution clean the air ducts in my business and was extremely impressed with the service I received. The technician was on time, professional, and did a fantastic job cleaning and sanitizing the air duct


Trusted Philadelphia Air Duct Cleaning company
At Air Duct Solution, excellence is our commitment, resonating through our glowing 5-star reviews. With transparency, honesty, and equitable pricing, your contentment is our priority.
In Philadelphia, PA, we redefine cleaning as an effortless, enjoyable process. Opt for Air Duct Solution for a seamless journey that exceeds expectations.
Ready to Breathe Easier? Contact Us Today!
Ready to breathe cleaner air and enjoy a healthier indoor environment? Contact Air Duct Solution today to schedule your cleaning services in Philadelphia, PA.