Best Air Duct Cleaning and Dryer Vent Cleaning Company in San Antonio Texas
Your Reliable Choice for Comprehensive Air Duct Cleaning Services in the San Antonio Area
At Air Duct Solution, we're here to ensure the air you breathe is clean, safe, and refreshing. Our array of specialized cleaning services is designed to cater to both residential and commercial spaces, offering you a healthier and more comfortable living and working environment.
Our Services in San Antonio Texas
Air Duct Cleaning: Experience the difference of professionally cleaned air ducts. Our experts meticulously remove dust, allergens, and contaminants from your HVAC system, improving indoor air quality and system efficiency. Breathe easier with our thorough air duct cleaning services.
Dryer Vent Cleaning: Safety meets efficiency with our dryer vent cleaning services. Lint buildup in dryer vents can lead to fire hazards and reduced dryer performance. Our team ensures your dryer vent is clean, reducing risks and helping your appliance work optimally.
Chimney Cleaning: Keep your home safe and cozy with our chimney cleaning services. We eliminate creosote buildup and blockages, reducing the risk of chimney fires and ensuring proper ventilation. Trust us to maintain your chimney's integrity.
Commercial Air Duct Cleaning: Businesses in need of clean and healthy air benefit from our commercial air duct cleaning. We understand the unique demands of commercial spaces and deliver comprehensive cleaning that promotes better indoor air quality for your employees and clients.
Why Choose Air Duct Solution
Expertise: Our skilled technicians are trained to deliver exceptional cleaning services using advanced techniques and equipment.
Healthier Spaces: Cleaner air ducts, dryer vents, and chimneys contribute to improved indoor air quality, reducing allergens and health risks.
Safety First: We prioritize safety with dryer vent and chimney cleaning, reducing fire hazards and ensuring optimal appliance performance.
Efficiency Boost: Clean HVAC systems and dryer vents operate more efficiently, potentially lowering energy consumption and utility costs.
Trusted Professionals: We're committed to your satisfaction and the respect of your property. Our team is professional, reliable, and considerate.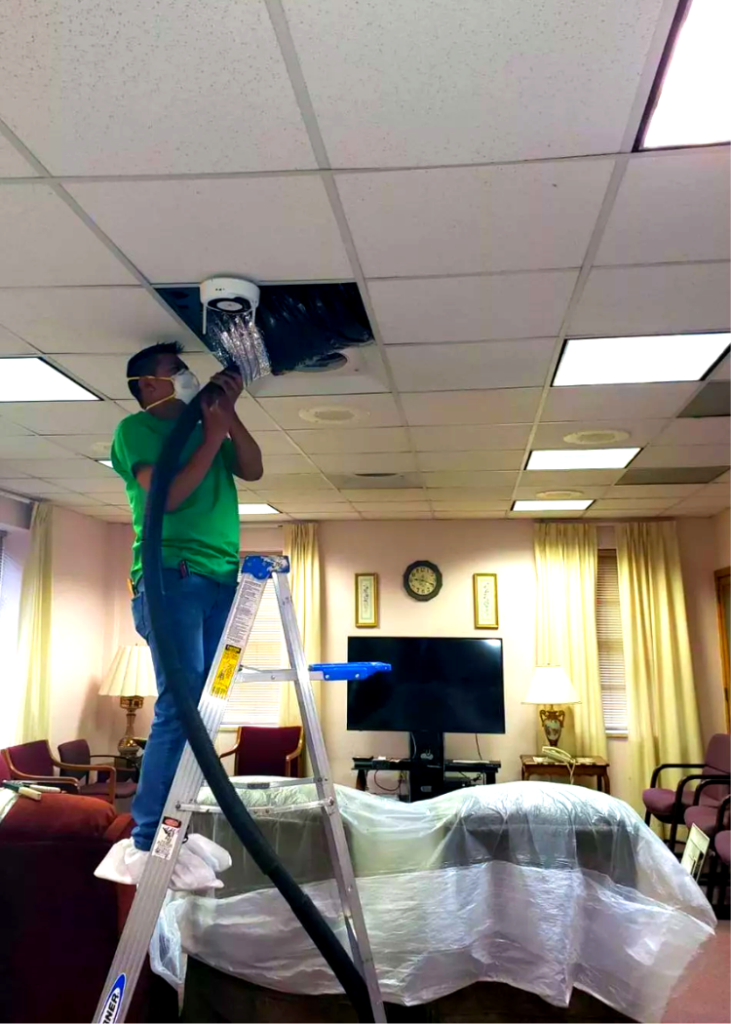 Breathe Easy with Cleaner Air Ducts: Say goodbye to dust, allergens, and icky stuff! Our air duct cleaning brings you fresher air, making your home a healthier haven.
Happy Breathing, Happy Living: Less sneezing, less wheezing. Cleaning your air ducts means fewer allergies and asthma troubles, so you can enjoy better breathing all around.
Save Energy, Save Bucks: Clean ducts mean your air flows smoothly, helping your AC work better. That can lead to lower energy bills – a win for your wallet!
Keep Your System Smiling: Give your HVAC system a break. With cleaner ducts, it won't have to work as hard, which means it'll stick around longer, saving you from shelling out for a new one.
No More Sneezes, Just Breezes: Pets, pollen, and pesky allergens are outta here! Enjoy a home where sniffles and sneezes take a back seat.
Fresh Home, Fresh Vibes: Ditch the musty smells! Instead, welcome a home that smells as good as it feels, lifting up the whole atmosphere.
Chill, We've Got You Covered: Clean air ducts mean you can chill out, knowing you're breathing cleaner air. It's all about creating a safer, cozier space for you and your crew.
I was hesitant to have my air ducts cleaned, but I'm so glad I did! The team at Air Duct Solution was fantastic. They arrived on time, were very professional, and did an excellent job cleaning and sanitizing my air ducts.
I have used Air Duct Solution for air duct cleaning in the past and have always been very satisfied with the results. Their technicians are knowledgeable, friendly, and do a thorough job cleaning and sanitizing the air ducts in my home
I recently had Air Duct Solution clean the air ducts in my business and was extremely impressed with the service I received. The technician was on time, professional, and did a fantastic job cleaning and sanitizing the air duct


Trusted San Antonio Texas Air Duct Cleaning company
At Air Duct Solution, Our Dedication to Excellence Shines Through 5-Star Reviews.
We hold your satisfaction as our top priority, underscored by our transparent, honest, and equitable pricing.
In San Antonio Texas, we redefine the cleaning process into a delightful and effortless experience. Opt for Air Duct Solution to embark on a seamless journey that consistently exceeds expectations, ensuring your happiness throughout the entire process.
Ready to Breathe Easier? Contact Us Today!
Elevate your indoor air quality with Air Duct Solution. Call (888) 823-5688 or fill out the form today to schedule your cleaning services in San Antonio Texas.